Try the Highest Converting Leads in Legal and Help Transform Access to Justice
Exclusive Leads Delivered Directly to Your Inbox, Mobile Device and Practice CRM in Real-Time
No contract
Dedicated support
No sign up fee
Money-back guarantee
Here's How It Works
---
1. Attract & Educate
We attract people who are actively seeking a family law, immigration, bankruptcy or estate planning attorney like you in their local areas, and educate them about the value and benefits of unbundled legal services.
2. Connect
Next, we connect them with you via email, realtime SMS Text Alert, and directly into your Unbundled Attorney account. We do not connect them with any other attorney - just you.
3. Grow
We don't just send you high-quality and exclusive leads, we also provide expert training and resources on converting your leads into paying clients and delivering services effectively through a dedicated account manager.
Watch

: How to Get Paid $500 Per Hour Providing Unbundled Legal Services

In this short 5 minute video, we present one of the biggest opportunities in the modern era for attorneys like you to make more money and future-proof your practice. We cite real-world numbers and reveal a little-known but highly effective model for raising your effective hourly rate to over $500.

Click the video to watch this short 5 minute presentation.
We Deliver Leads Directly Into The Legal Platforms You Use
---
From premium lead generation, to client conversion, to efficient practice management - we integrate and partner with platforms that make your job as an attorney easier and more streamlined. *
* We're constantly adding integration partners to make your life as an attorney easier
Trusted by Hundreds of Attorneys Across the Country
---
"
Working with Unbundled Attorney has really changed my life. [The Unbundled Attorney leads] are good solid leads who want a good quality attorney, so when I convert them, they are paying. In three days, I pulled in $60,000. It's ridiculous.
- Rob Wegman - Chesapeake, VA (Criminal, DUI)
"
Any [Unbundled Attorney client] that comes into my office for a probate consultation signs a fee agreement and becomes a client. More often than not, the leads end up being people who we can actually help. Even if only 1/5 leads becomes a client, the revenue that we make off of that is 10 times what we spent on those 5 leads.
- Jill Santiago - Warwick, RI (Estates)
"
[Unbundled Attorney] sends leads that are targeted to me and to my business. Unbundled Attorney [sends] me leads that are ready to convert. [Unbundled Attorney's] insights and the help that you've given us to tweak our procedures has been invaluable.
- Nick Geman - Denver, CO (DUI)
Listen to the Unbundled Attorney Mastermind Podcast
---
Watch the Most Recent
Podcast Episodes
---
Your Leads, Delivered In Real Time On Any Device
---
Access Your Leads Online Through your Unbundled Attorney Account, SMS text message, email, and live phone transfer.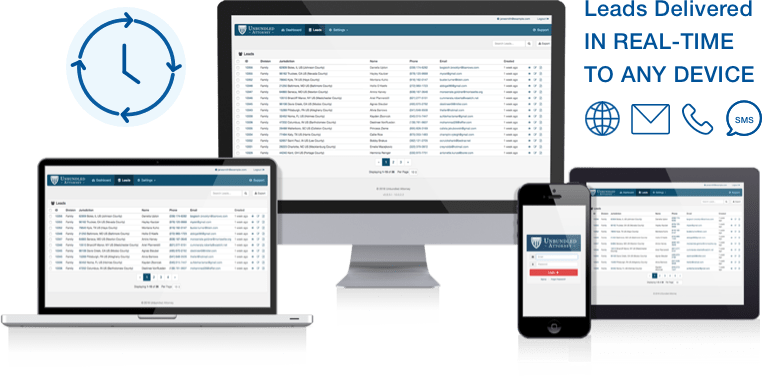 Frequently Asked Questions
---
I've tried other lawyer lead generation services and it was a huge waste of money. Why should I try Unbundled Attorney?

A. Oh believe us, we've heard this many times and unfortunately this happens far too often. What makes us different? For starters, we have very effective systems in place that ensure a lead we send you is *actively searching* for an attorney who practices your exact area of law, in the regions you practice in. We also educate them on what they can expect to pay and how our service works, so your job in converting them is easier. Other services have a "bait and switch" model so they can get as many leads as possible, which reduces the quality of lead. Many other services also sell that lead to multiple attorneys, further reducing the quality of their service. If you receive a lead from us, you can rest assured you're the only attorney who received that lead. Our leads are 100% exclusive.

Can I control how many leads I receive every day or week?

A. Yes, absolutely. The last thing we want is for you to be overwhelmed with client leads and not have the time to properly follow up with each and every one. Not only do we want you to convert your leads, but it's important to us that the people we send to you

actually receive the legal help they need.

We'll work with you to ensure that you receive the volume of leads that's right for your practice.

Do I have to pay for leads that are "invalid?"

A. We have a very robust and fair credit request system in place. For example: If ever a lead you receive is looking for legal help in an area of law you do not cover, you will not have to pay for it. The same applies if a lead has invalid contact details such as a bad phone number.

Do you make it easy to cancel services? Will I have to jump through hoops to talk with someone on the phone?

A. One of the things we pride ourselves on is an absolute dedication to our attorney's success. If, however, you need to cancel, we make it super easy to do so. All it takes is a simple phone call into our customer support line and one of our account representatives will cancel your account.
Get Started with Receiving the Highest Converting Leads in Legal Directly Into Your Inbox Today